Why Corps members should stop seeking relocation.
The 2023 Batch 'B' Stream II Corps members deployed to Katsina State have been advised to shun seeking relocation and remain in the posted state for their one-year mandatory service.
A retired Deputy Director of the National Youths Service Corps (NYSC), Mrs Fadimatu Muhammad, gave the advice on Tuesday in Katsina. Read More: https://legalattorneyblog.com/2023/07/20/enugu-tribunal-dss-knocks-nysc-over-shoddy-investigation-says-mbahs-certificate-authenthic/
She gave the advice while delivering a public lecture to the corps members at the NYSC permanent orientation camp along Mani Road, Katsina.
Recall that no fewer than 1,070 corps members were inducted on Aug. 18 for their three-week orientation course.
According to her, if the corps members continue to seek relocation, the scheme's purpose to foster unity among Nigerians is defeated.
While reminding the Corps Members of the historical background of the NYSC, its mission and vision, she also advised them on measures to boost their future.
She also urged them to participate fully during the in-camp Skills Acquisition and Entrepreneurship Development (SAED) programme.
Mrs Muhammad admonished corps members to take their training seriously as life outside the NYSC may be challenging. Also Read: https://legalattorneyblog.com/2023/08/14/minister-of-art-musawa-is-a-serving-corps-member-nysc-confirms/
She told them that white-collar jobs are no longer available. Instead, they should focus on acquiring relevant skills to help them.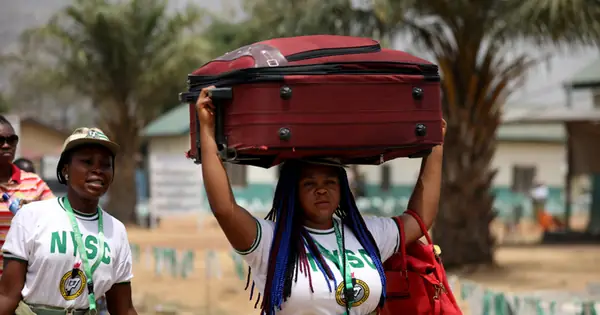 Why Corps members should stop seeking relocation.
The former director called on the corps members to respect the culture and tradition of their host communities wherever they were posted.
She disclosed that Katsina state is a home of hospitality and heritage, and the people are generous and happy to receive and accommodate them.
NYSC State Coordinator charges members on perseverance
Meanwhile, the National Youth Service Corps (NYSC) State Coordinator in Lagos, Mrs Yetunde Baderinwa, has urged the orientation course members to persevere and approach challenges.
Baderinwa gave the advice on Tuesday while addressing corps members of the Orientation Broadcasting Service (OBS) in the 2023 Batch B Stream II orientation camp, Iyana-Ipaja, Lagos.
According to her, Lagos, the Centre of Excellence, offers equal opportunity and accommodates all; nevertheless, the corps must stay clear of negativity and embrace emotional intelligence.
"There are numerous opportunities here in Lagos, but you must embrace the challenges you may encounter with patience while enjoying the city's vibrant atmosphere.
"Don't be overwhelmed by any situation you may encounter during the service year, but tackle the challenges by taking things one step at a time.
" Pursue your goals and remain focused, always unwind after the hustle and bustle of Lagos; by so doing, you will make headway."
The NYSC Lagos Coordinator also enjoined the members to navigate the NYSC journey with positivity and a resilient spirit.
"You have to make up your mind that you are going to make your service year a memorable one, which you can achieve by being positive-minded in your activities," she added.
The 2023 Batch B Stream II orientation camp programme held nationwide, which began Friday, Aug. 18, would end Thursday, Sept. 7.
Click Button Below to Join Our WhatsApp and Telegram Groups

For Advert Inquiries & News/Article Publishing
Call:+2348033888791, +2347069999005
E-mail: legalattorneyblog01@gmail.com